Wave of Luck Baccarat Players Giveaway
Wave of Luck Baccarat Players Giveaway
Now-November 24 | Mondays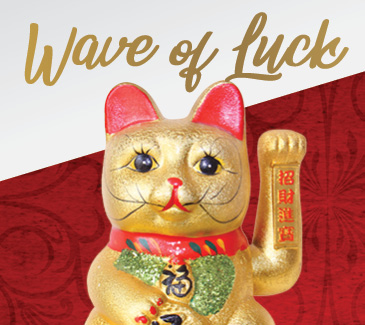 Weekly Prizes!
Earn entries each week from 3:00 a.m. Monday until 2:59 the following Monday.
Mondays each week, one name will be drawn for the winner's choice of $500 Gift Certificate to a local Asian Market, $500 in comps at the Golden Nugget, or $500 in Promo Chips.
Weekly entries do not roll over.
Saturday, November 24
10:00 a.m. – 10:00 p.m: Activate entries by earning 20 Tier Credits
10:00 p.m: Two winners are drawn. The first winner wins
$2,500 in Promo Chips and the second winner wins $5,000 Cash.
Congratulations to our weekly winners! Prize must be claimed at Table Games by midnight the Monday following the drawing date listed below. Unclaimed prizes will be forfeited.

Monday, August 6 - Sopharith C. | Crockett, TX
Monday, August 13 - Hong T. | Marion, MS
Monday, August 20 - Thuha H. | Waveland, MS
Monday, August 27 - Henry P. | Gulfport, MS
Monday, September 3 - Yong K. | Pensacola, FL
Monday, September 10 - Hoa L. | Lawrenceville, GA
Monday, September 17 - Nam T. | Pensacola, FL
Monday, September 24 - Lien N. | Lilburn, GA
Monday, October 1 - Cindy N. | Biloxi, MS
Monday, October 8 - Yong K. | Pensacola, FL
Monday, October 15 - Hoa B. | Lauderhill, FL
Monday, October 22 - Yong K. | Pensacola, FL
Monday, October 29 - Tu T. | Navarre, FL
Monday, November 5 - Jacob S. | Ocean Spring, MS
Monday, November 12 - Anh V. | Houston, TX
Monday, November 19 - Thuha H. | Waveland, MS