$100,000 Poker Tournament Qualifiers
$100,000 Poker Tournament Qualifiers
No-Limit poker game from 12am February 1, 2018 through 11:59pm March 31, 2018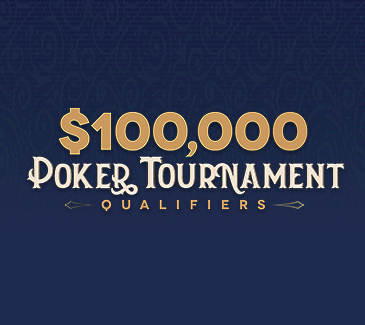 The top 60 players with the most hours played on a live jackpot eligible No-Limit poker game from 12am February 1, 2018 through 11:59pm March 31, 2018. Hours are tallied using our Bravo system. Each week we will update our board with the current top 60 players. Final Top 60 players will be posted in the Poker Room on April 1, 2017. Top Final 10 players will automatically receive $1,000 cash. Top Final players 11-30 will automatically receive $500 cash. Cash prize may be claimed on the day of the tournament. All finalist must be present on April 8th to claim prize. Tournament will be held on April 8, 2017 at 10am in the Poker Room. All live games will be closed on April 8, 2017 at 9:30am and will resume when a poker table is available.
TOURNAMENT FORMAT
Qualified players will swipe their 24k Select Club card in Bravo Tournament Watch for a random seat and table in the Poker Room starting at 8:30am – 10am on April 8th, 2018. All participants must be present to claim their seat into the tournament and/or prize. Participants may only earn one seat in the Tournament. Players will receive $10,000 in tournament chips at the beginning of the tournament. Tournament chips have no cash value and are collected at the end of the Tournament. All tournament chips must be broken down by color and must be visible to other players. Players may earn additional tournament chips based on their ranking among the top 60 players. Top 10 players will receive an additional $2,500 tournament chips. Players 11th through 20th will receive an additional $1,500 tournament chips. If there's no winner for any of the 1st, 2nd or 3rd Quarters, the full amount will roll over into the final score prize of that game. Random numbers will be drawn at the kickoff of each promotional game. At the end of each quarter the Poker Supervisor will re-draw the numbers for the squares. If there's no winner for the final score. The full amount will go into a Hot Seat drawing starting immediately after the game and will run every 15 min until the full amount is rewarded. Drawings will take place after the game on the hour, a quarter after, on the half, or a quarter till the hour and will continue every 15 min. Each Hot Seat drawing will be worth $500. Only players on the Football Square board and on a live poker game will be eligible to win the Hot Seat cash prize.
Join us in the poker room!
---