Winger and FireHouse
Saturday, March 23 | 8:00pm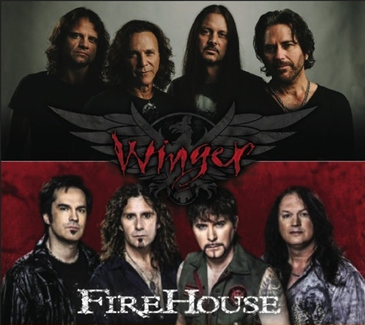 In the Grand Event Center
Winger is an American rock band that has combined elements of glam metal and progressive metal. Formed in New York City, Winger gained popularity during the late 1980s and early 1990s. The band's two platinum albums, Winger and In the Heart of the Young, along with charting singles "Seventeen", "Headed for a Heartbreak" and "Miles Away", put the band on the top of the charts by the early 1990s.
FireHouse is an American rock band formed in Richmond, Virginia before moving to Charlotte, North Carolina where they were signed to Epic Records in 1989.[1] The band reached stardom during the early 1990s with hit singles like "Reach for the Sky", "Don't Treat Me Bad" and "All She Wrote", as well as their signature power ballads "I Live My Life for You", "Love of a Lifetime" and "When I Look Into Your Eyes".
---
All guests must be 21 or older.
---