Fuel
Saturday, May 28, 2022 | 8:00pm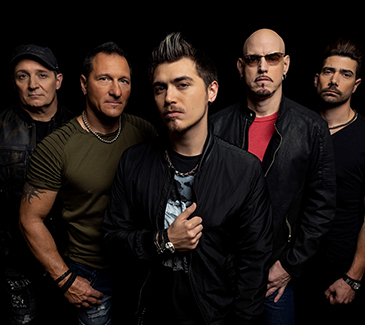 In the Grand Event Center
After 11 years away, Carl and Kevin brought Fuel back to life in 2021. In the end, their return may have been unexpected, but it couldn't be more welcome. After rebuilding their brotherhood, founder, guitarist, and songwriter Carl Bell and longtime drummer Kevin Miller didn't just celebrate their history together. They rushed into the future joined by new blood—John Corsale [lead vocals, guitar], Mark Klotz [guitar, vocals], and Tommy Nat [bass, vocals]—and armed with their first album together in 18 years, Ånomåly.
Just before the turn-of-the-century, Fuel quietly emerged with a melodic brand of hard rock rooted in eloquent songwriting and heavy guitars. 1998's Sunburn not only went platinum, but it also yielded enduring anthems such as "Shimmer" and "Bittersweet." Its 2001 follow-up, Something Like Human, earned a double-platinum certification and elevated them to arenas. The lead single "Hemorrhage (In My Hands)" would reach #1 for 13 weeks and would even become the No. 6 Alternative Rock song of the past 25 years according to Billboard's Alternative Chart 25th Anniversary: Top 100 Songs, making it "one of the Top Ten most-listened to alternative rock songs for the past 30 years."
---
All guests must be 21 or older.
---