Progressive Slot Point Multiplier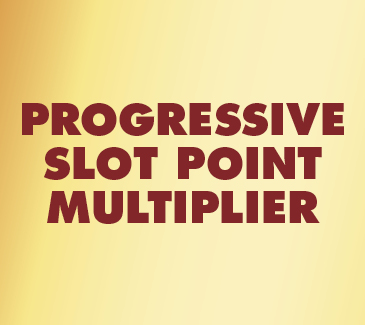 Wednesdays in October
The more you visit, the higher your multiplier!
1ST VISIT 3X
2ND VISIT 5X
3RD VISIT 7X
4TH VISIT 10X
On your first Wednesday visit, stop by any 24K Select Kiosk and select MORE OFFERS to activate your multiplier.
Then, earn 100 base Slot Points to automatically progress to the next level multiplier on your following Wednesday visit.
Activation & Earning Periods: 12:01am - 11:59pm each promotional day. Activation only required on first visit. Multiplier valid for Slot Points earned after activation. Cannot be combined with any other Slot Point multiplier including tier benefit multipliers. Must earn 100 bas Slot Points each promotional day to progress to the higher level multiplier the following promotional day. If minimum bonus Slot Points are not earned, the multiplier level will remain the same the following promotional day. Excludes video poker play. Complete details available at Player Services.
---